Simon Hanna

Our club is delighted to hear that one of our former youth players, Simon Hanna, has recently signed a Professional Contract for Sheffield Wednesday. We wish Simon well in his future career and look forward to seeing him down at Park Way during his visits home.

Golf Society

The April outing was won by Davy Bailie in testing conditions with 33 points. Ricky McLean hit the longest drive and Davy Browne the closest to the pin. Davy Laird sunk the only 2 of the day but once again Joe 'Matsey' Davidson picked up another pay day by defeating Jackie Rodgers and Robert McEwan in their match. Next outing is to Greenacres on18 May with an 11am tee off.

Minisoccer School

The Comber Rec Youth Minisoccer school continues to go from strength to strength. As a result of unprecedented demand all places in the school are now taken and registration for the latest session has been closed. Future youth football opportunities will be detailed on this website and on the Comber Rec Youth Facebook page in the coming weeks.

Comber Rec 3rds Semi Final

Comber Rec Thirds will face Corrymeela on Wednesday 16th April in the Semi Final of the Sittlington Cup. The game will be played at the Billy Neil pitches and kicks off at 6.15 pm. Please come along and show your support for the team!

U 18 Schoolboys International

Our club would wish to thank all those who gave of their time and skills last Friday to make the day as successful as it was. We would also thank all those who provided food for our hospitality both inside the clubrooms and in the outside catering which was commented on by both Associations and Inspiresport, the official partner of the Centenary Shield.

We would also thank Ards Borough Council for allowing us to use the disused gravel hockey pitch for a temporary car park which was filled to capacity easing the burden on the local streets and, therefore, the flow of traffic throughout the town.

We would also thank the PSNI for their assistance in directing the heavy flow of traffic away from Park Way making it an enjoyable experience for all involved.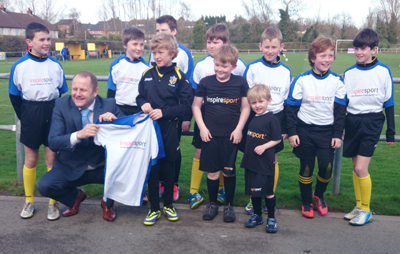 Finally, we thank Inspiresport for providing kits to our team mascots and ball boys who carried out their tasks very efficiently making the occasion a very professional event.

David Browne
Chairman

Golf Gociety

Next outing for the golf society is Sunday 13 April at Scrabo GC tee off 11am.

Sarah Connolly

It is with great pride that we learned of former starlet Sarah Connolly's call up to the NI senior ladies squad for the World Cup qualifier away to the Faroe Islands this week. We never doubted Sarah would go far in ladies football but to achieve this at the age of 15 is a fantastic achievement. Well done and good luck.

Mini Soccer School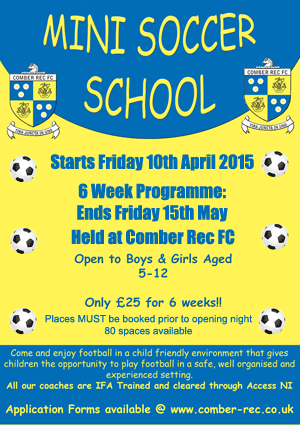 Starting on Friday 11th April 2014 for 6 Weeks 6-7p.m.
FINISHING DATE – 16thMay 2014
Held at Comber Rec. Football Club, Parkway, Comber

Open to Boys & Girls Aged 5-12 - Only £25 for 6 weeks

Come and enjoy football in a child-friendly environment that gives children the opportunity to play football in a safe, well organised and experienced setting.
Please Note: Coaches are IFA trained and cleared through Access NI for child protection

Application Form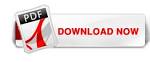 Crumlin Star V's Comber Rec
03/05/2014
Away
League
Latest Fixtures

Seconds

v's

Crumlin Star

-

26/04/2014
(A)
Thirds

v's

Stranmillis 37th OB

-

23/04/2014
(H)
Under 18s

v's

-

()
Under 16s

v's

-

()
Under 13s

v's

St Mary's

-

12/04/2014
(H)
Ladies

v's

Loughgall

-

17/04/2014
(A)
Latest Results

19/04/2014
Firsts
0

-

4
Drumaness Mills
19/04/2014
Seconds
0

-

2
Dunmurry Rec 11's
16/04/2014
Thirds
1

-

3
Bangor Swifts III
12/04/2014
Under 18s
4

-

2
Loughside
29/03/2014
Under 16s
1

-

5
SOPFC
05/04/2014
Under 13s
6

-

1
Barn
12/04/2014
Under 12s
9

-

1
Rosario
06/04/2014
Ladies
1

-

1
Chimney Corner Breda Ladies
Club Goal Scorers-Top 5 (Overall)

Player
Goals
| | |
| --- | --- |
| Abbie Magee | 24 |



Artist

Cost

29/03/2014

Dana Dixon Blues Band

£7

05/04/2014

Cold Comfort

£5

19/04/2014

Mighty Mojos

£5

05/05/2014

Morgan O'Kane (USA)

£6T

17/05/2014

Chaz De Paulo Band (USA)

£6T

07/07/2014

Bob Wayne Band (USA)

£6T

12/07/2014

JP Mac Band Johnny Cash

£12T

The 'T' means ticketed gig




There are currently 1 Users Online