Under 18 International

We are honoured once again to be asked to host another Schoolboy International at Park Way. We are delighted to announce that on Friday 4 April at 5pm, the Centenary Shield match featuring N Ireland v England shall take place. This is the prime match of the series for NI in this competition so hopefully a large crowd shall decend on Comber to enjoy this fixture.
All school children are welcome to attend free of charge, though the organisers have asked that they be accompanied by a responsible adult.
Our youth teams are welcome to attend but should again be accompanied by one of their coaches and if possible wear their club tracksuits.
Some of our youths shall have tasks to perform on this occasion and the relevant managers have been spoken to. Anyone wishing to assist with car parking, stewarding, catering or other duties should speak to any of our committee members or leave your details at the club bar.

Bottle Bank

The more observant at our club have noticed we now have our own bottle bank which is situated to the front of our equipment store. Although this was brought to the club to cut down dramatically the amount of waste from our bar, it's there to be used by our club members as well so there are no excuses now for not recycling your glass.

Condolances

Our club would wish to pass on its sincere condolances to the McArthur family on the death of Carol. Our thoughts are with Lyn and Joe Keys, David McArthur and our Hon Secretary Jackie and each of their respective families.

Mini Soccer School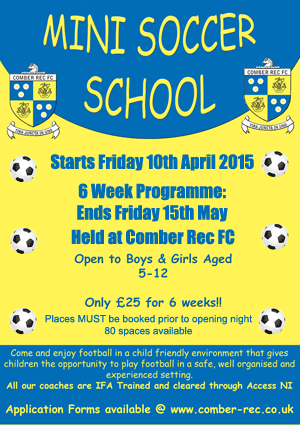 Starting on Friday 11th April 2014 for 6 Weeks 6-7p.m.
FINISHING DATE – 16thMay 2014
Held at Comber Rec. Football Club, Parkway, Comber

Open to Boys & Girls Aged 5-12 - Only £25 for 6 weeks

Come and enjoy football in a child-friendly environment that gives children the opportunity to play football in a safe, well organised and experienced setting.
Please Note: Coaches are IFA trained and cleared through Access NI for child protection

Application Form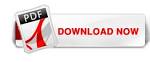 Supporters Club

Please note that after this Saturday's home match V's Malachians (8th March) a supporters club meeting will take place in the clubhouse. Please attend.

Golf Society

Next outing Sunday 16th March at Clandeboye T off 10 45 am

Malachians V's Comber Rec
15/03/2014
Away
League
Latest Fixtures

Seconds

v's

Malachians

-

15/03/2014
(H)
Thirds

v's

Ballywalter Rec III

-

15/03/2014
(H)
Under 18s

v's

Dunmurry

-

15/03/2014
(H)
Under 16s

v's

Free week

-

15/03/2014
()
Under 13s

v's

Dungoyne

-

15/03/2014
(H)
Ladies

v's

Ballynahinch Ladies

-

10/03/2014
(A)
Latest Results

08/03/2014
Firsts
2

-

2
Malachians
01/03/2014
Seconds
5

-

1
Orangefield
08/03/2014
Thirds
1

-

1
Queens Graduates III
08/03/2014
Under 18s
4

-

3
Loughside
08/03/2014
Under 16s
8

-

2
Sirocco Youth
01/03/2014
Under 13s
0

-

6
Immaculata
08/03/2014
Under 12s
5

-

3
Castle Juniors
02/03/2014
Ladies
1

-

4
Mid Ulster Ladies



Artist

Cost

15/03/2014

Short Fuse Blues Band

£5

16/03/2014

Blues Jam

Free

29/03/2014

Dana Dixon Blues Band

£7

05/04/2014

Cold Comfort

£5

19/04/2014

Mighty Mojos

£5

05/05/2014

Morgan O'Kane (USA)

£6T

17/05/2014

Chaz De Paulo Band (USA)

£6T

07/07/2014

Bob Wayne Band (USA)

£6T

12/07/2014

JP Mac Band Johnny Cash

£12T

The 'T' means ticketed gig




There are currently 1 Users Online